BIATEX BLACK

What is HTC and how does it work?
The process that takes thousands of years in nature to produce brown and hard coal can be technically completed within a few hours. The HTC process (hydrothermal carbonization) can be compared best with the function of a pressure cooker. When biomass is heated and under high pressure, biochar is created through a natural process. Up to 99% of the supplied carbon is bound in aqueous coal sludge (biochar).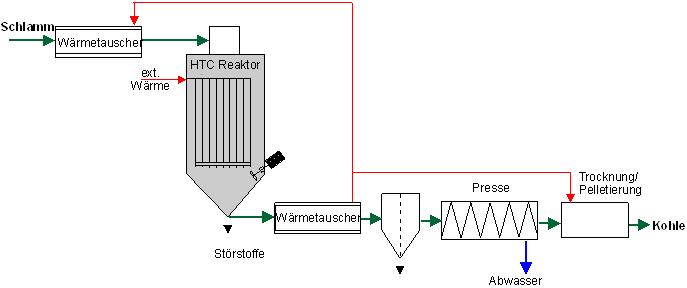 Your advantages:
Biochar can be used instead of fossil fuels. This means using renewable instead of fossil energy and reduces the CO2.
Our bio charcoal can be used as terra preta for soil improvement.
No disposal costs for the excess biomass, instead profits from the sale of biochar.
---
Application areas:
Digestate, sewage sludge, liquid manure, leftovers, wood residues, organic landfill residues, green waste, dry chicken manure, organic waste disposal, etc.
---
THE BIATEX BLACK

Biatex has set itself the task of converting organic sludge from sewage systems into biochar with the help of hydrothermal carbonization (HTC).
The BIATEX BLACK is designed in such a way that hardly any pressure or heat is lost during constant filling so that the system can be operated continuously and fully automatically.
In hydrothermal carbonization (HTC), plant biomass such as Sludge, solid fermentation residues are converted into lignite in a pressure vessel at approx. 200 ° C and> 10 bar. It is not necessary to dry the biomass, it can be processed with DS (dry substance) of 20-60%. Higher TS requires less energy. The reaction that takes place is mostly exothermic, which means, energy is released. Up to 99% of the carbon used is bound in the coal.
The problem of insufficient decomposition of the sludge used is countered with the aid of the patented continuous process, which enables only the aqueous coal formed to be removed and products that have not yet been completely converted to be left in the process.
The aqueous coal obtained is freed from contaminants, dried and - if desired - pelletized. Alternatively, the biochar can also be packaged as coal dust. This means that the biochar can be ideally used for heating purposes in a CO2-neutral manner. Alternatively, the biochar can also be used for soil improvement as "Terra Preta", because of the plant available carbon and the much higher storage capacity than normal soils for phosphorus and nitrogen.
The wastewater from the dewatering of the coal can be cleaned in existing sewage treatment plants or the BIATEX GREEN plant.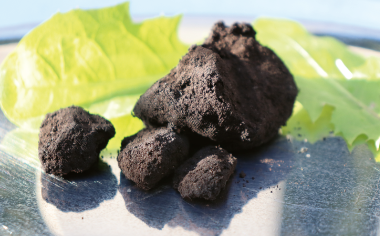 Download the datasheet BIATEX BLACK:
We would be happy to guide you. Call us under+49 (0) 59 75 - 305 28 36 or use our Contactform.