MANURE & DIGESTATE TREATMENT
Advantages BIATEX GREEN System
Low operating costs; 10 - 20 kW/m³ (depending on the digestate)
Preservation of the essential fertilizer minerals
No chemicals
Protection of groundwater against nitrate
Robust technology
Reduction of the prescribed storage capacity and application areas
Highest operational reliability through 10 years of experience with process management.
The BIATEX GREEN system for cleaning digestate and liquid manure
More and more farmers are reaching their limits with their storage capacities and their areas for spreading liquid manure and digestate, which means that they are dependent on expensive transport. We have made it our task to solve this problem and can now present our processing plant, the BIATEX GREEN.
Our system can be easily integrated into existing infrastructures. The entire technology is installed in a 20-foot container. There is also a biology basin, which, depending on the size of the facility, has a diameter of approx. 10-15m. If a container is available, processing can possibly take place in this.
The BIATEX GREEN process was specially developed for processing liquid manure and fermentation residues from biogas plants.
The first step is a two-stage separation, in which the solids are separated from the liquid phase. The liquid phase is then fed into the biology basin, in which sedimentation, nitrification and denitrification take place. Thanks to the patented DEAMON process which is used in this basin, we achieve an exceptionally high cleaning performance with a minimum of energ
All cleaning steps are purely mechanical and biological. Through this process we get two products at the end.
A nitrogen-reduced and carbon-reduced potassium-containing water
Which means it can be returned into the biogas process. This allows the reduce of the nitrogen load in the biogas plant. This allows a greater use of dry chicken droppings (for example) and reduces the use of corn silage.

Since dissolved salts (potash, magnesium, ...) are still contained in the treated wastewater, it is ideally suited for spreading and irrigation on fields.
Solid biomass:
Which can be used, for example, as a high-quality fertilizer and is therefore absolutely worth transporting.

or is refined into biochar using our BIATEX HTC process.
When developing the system, it was particularly important for us to design the system as user friendly as possible while keeping the costs for the operator as low as possible.
In our process, we deliberately don´t use any filter or membrane technology to treat the liquid phase because these usually involve high costs of maintenance and cleaning. They are prone to failure and require regular replacement, which is also very cost intensive.
We do not use any chemicals or polymers in the processing that would support the nitrogen breakdown and other processes, but pollute the environment. Even there are still no limit values ​​for many of these substances.
Thanks to this simple yet perfectly coordinated technology, we have succeeded in reducing operating costs to up to 3 KW / m³ and still achieving an excellent cleaning performance.
In order to adapt the necessary degradation performance, the DEMON process is also used in our systems, which drastically accelerates the sedimentation of the sludge and increases the biological degradation performance in the bioreactor. The necessary degradation is also carried out by natural microorganisms, which are inoculated once when the system is put into operation.

This process has been used successfully for years and has been able to successfully prove operational safety and operating costs - even with constantly changing inlet conditions (hydraulic and qualitative).
With regard to the discharge values, it should be noted that liquid manure or fermentation residues can be very different in terms of location. In addition, the finest particle sizes also vary during operation.
In our experience, the following results can be achieved:
With regard to the discharge values, it should be noted that liquid manure or fermentation residues can be very different in terms of location. In addition, the finest particle sizes also vary during operation.
Value
inlet
outlet
before screw separator
from
to
from
to
org. TS
3%
8%
0,01%
1%
N
2.000 mg/l
6.000 mg/l
150 mg/l
400 mg/l
NH4-N
2.000 mg/l
5.000 mg/l
100 mg/l
350 mg/l
P
1.000 mg/l
6.000 mg/l
10 mg/l
150 mg/l
CSB
15.000 mg/l
70.000 mg/l
100 mg/l
1.500 mg/l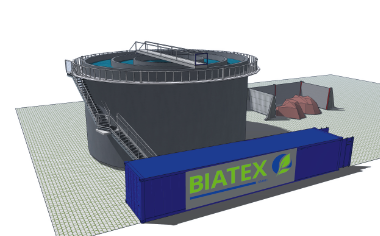 Download the datasheet:
We would be happy to guide you. Call us under +49 (0) 59 75 - 305 28 36 or use our Contactform.